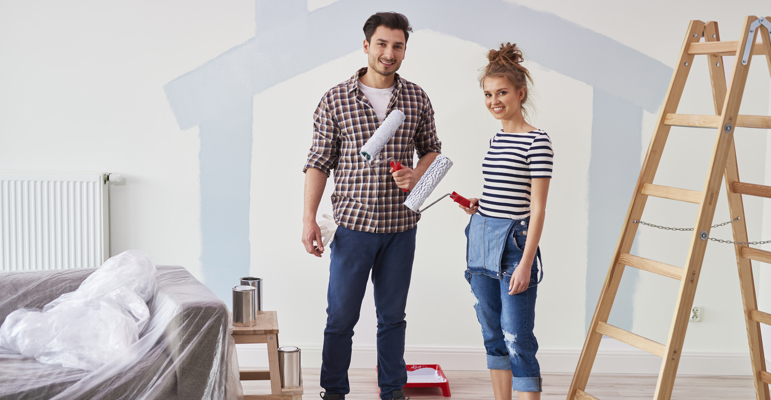 Fully licensed and insured, we're your trusted choice for interior house painting across Melbourne
At Victoria Master Painting, we offer interior house painting service in Melbourne to upgrade the look and feel of your space at cost effective pricing. We pay attention to detail, covering everything from ceilings and crack repairs to decorative coatings and custom wood finishes. Our expert painters use the latest materials and advanced tools to create an efficient, functional and aesthetic living space. We ensure a smooth project delivery with experienced professionals, reliable site supervision and a focus on safety.
Transform your home interior with confidence with our personalised solutions
Our interior painters deliver inspiring work, paying attention to every detail and providing complete solutions to make your dream home a reality. We maintain the highest quality standards with hundreds of interior painting projects under our belt. 
Trust our team for all your residential interior painting needs as we personalise solutions as per your space and requirement. We carefully assess your home's distinctive features to choose the ideal colour and texture. 
Whether you're selling or enhancing your property, our expert interior house painters ensure lasting results that meet your expectations. Count on us for quality within budget and on schedule, with a 100% satisfaction guarantee.
Our end-to-end interior house painting services in Melbourne includes:
Interior wall painting
Doors and window frames painting
Kitchen and bathroom painting
Ceiling painting
Living room painting
Kids' room painting
Bathrooms
Featured walls painting and more
Have a look at what our interior painting process looks like!
Our efficient interior painting process ensures punctual, secure and satisfying services. The steps in our interior painting process are as follows:
Consultation: Our experts assess your needs and answer your queries during an on-site visit.
Quotation: We provide detailed, obligation-free quotes after the consultation.
Scheduling: We accommodate your schedule, ensuring on-time and quality work.
Preparation: Thorough preparation, including area protection and cleaning, is a priority.
Painting: We start the painting process once the preparation is complete.
Cleaning: After painting, we leave the area spotless.
What do you get by partnering with us?
We prioritise your project and enhance your property with quality interior house painting solutions.
Transparent and Competitive Quotes
100% Customer Satisfaction Guarantee
Expert Colour Consultation
Complimentary Post-Painting Cleaning Service
Leave all your interior painting concerns to us. 
Most frequently asked questions regarding interior house painting:
Can I Stay at Home During the Interior Painting?

It's highly recommended to wait two to three days for the fresh paint to dry and its fumes to subside, especially if you or your family suffer from respiratory issues or allergies. It would be best to wait several days before moving back to a newly painted house.

How Much Does Interior House Painting Cost?

Usually, the cost of interior house painting is charged per square metre or per hour. The use of single or multiple colours in a room also affects the overall interior painting cost. Other factors that affect interior house painting in Melbourne are the amount of prep and trim work required and the type of paint and finishes you select. Generally, it costs around $30 to $45 per square metre.

What are the best paint colours for house interiors?

Australian homeowners prefer more neutral colour tones for home interiors, such as grey, beige, or off-white. However, you can personalise the colours with cool-toned and warm-toned colours. Talk to our expert if you need help with selecting the right colours.

How Long Will the Interior Paint Job Last?

We work on every detail when it comes to interior house painting. From preparing the surfaces for painting, taping the edges, and covering the floors to covering up the furniture and so on, it takes around 5 to 6 hours to paint a bedroom. If a team of three professional painters works on a three-bedroom house, it will take an interior painting job around four days to complete.

Do you offer any guarantees?

Victoria Master Painting offers interior house painting services that are fully insured and guaranteed. Based on the type of paint used, we guarantee our customers up to 10 years on our paint job.
We take pride when we see smiles on our customers' faces as we leave; it's what we aim to earn. Your one hundred percent satisfaction is our utmost priority.
Fifteen days from the completion of the paint job, we call you to get your feedback, which is highly important to use. We use it to implement improvements to our work standards and practice.