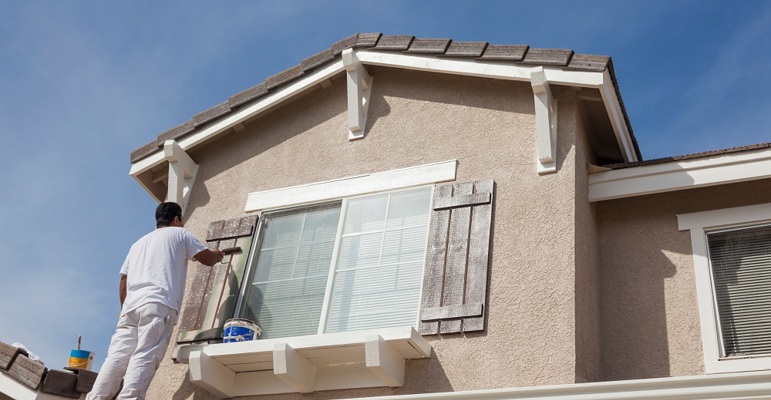 Experienced house painters in Melbourne creating lasting impressions
At Victoria Master Painting, we have extensive experience as Melbourne's premier house painters and take pride in our adherence to aesthetics and durability. Our clients choose us for the assurance of a paint job that won't peel prematurely due to shoddy solutions or use of subpar materials. 
From large residences to quaint homes across Melbourne, we tackle diverse projects, adjusting to each property's specific needs, whether a simple facade or more complex tasks involving height or power lines. 
As the go-to exterior painter Melbourne homeowners rely on, we exclusively use durable paints to protect your home's exterior and maintain its aesthetic appeal.
Personalised solutions to save you on costs and provide targeted solutions to Melbourne homeowners
We can paint various external surfaces, including weatherboards, timber, trellises and fences, using top-quality paints applied with precision. 
Our detailed approach ranges from assessing timber preparation needs to testing primed weatherboards, guaranteeing a finish that endures. We're experienced at addressing various challenges, from access limitations to cracking renderings, ensuring the perfect finish for every unique home.
Get in touch with our team and schedule an obligation-free quote appointment today!
Our end-to-end exterior house painting services in Melbourne includes:
Fence painting
Epoxy painting
Exterior wall painting
Deck painting
Roof painting
Railings, stucco, patios, rooves and much more
Have a look at what our interior painting process looks like!
As Melbourne's premier exterior house painters, we offer a streamlined process for efficient results:
Consultation: Our experts thoroughly discuss your exterior painting needs, tailoring a plan to your aesthetic and budget preferences.


Quotation: You'll receive a detailed, obligation-free quote following the consultation.


Scheduling: We work around your schedule, arriving punctually and maintaining quality throughout the project.


Preparation: Before painting, we safeguard your property, protecting furniture, door and window frames and exterior fixtures. We ensure a clean, dust-free work area.


Painting: With detailed preparation in place, we commence the exterior painting work.


Cleaning: Upon completion, we leave your outdoor space clean and ready to enjoy.
What do you get by partnering with us?
Enhancing the aesthetics and functionality of your property through high-end exterior house painting solutions is our primary focus.
We Offer:
Clear and Competitive Quotations
A 100% Customer Satisfaction Guarantee
Professional Color Consultation
Complimentary Post-Painting Cleaning Service
Trust us to handle all your exterior painting needs.
Exterior house painting in Melbourne: Most frequently asked questions
Which paint is best for exterior painting?

We use only top-quality paints for the house's exterior, which can stand the test of time and keep your home looking beautiful and protected.

What is the best time for exterior house painting?

The fluctuations from day to night temperature can lead to peeling and cracking in paint, and in Melbourne, winter is considered the best time for exterior house painting.

How to prepare the exterior of a house for painting?

When you choose Victoria Master Painting, you have nothing to worry about. We can take care of all the preparation required.

How long does it take for exterior house painting?

An average one-storey house may require 8 to 10 days, and a two storey house takes around 15 days for exterior painting. However, you must also include cleaning and prepping up the exterior, which takes around two days.

How long will exterior paint last?

Exterior house paint can last nearly two decades, but it highly depends on the type of exterior paint used and climate.
Nothing is more essential than seeing a smile on your face as we leave. We put in all our efforts to provide you with the finest quality results and earn your respect. We ensure that you receive perfect services from beginning to end. 
Your feedback is invaluable to us. After two weeks of completing the project, we call each of our customers to get their feedback. We use your feedback to implement improvements to our work standards and practice.