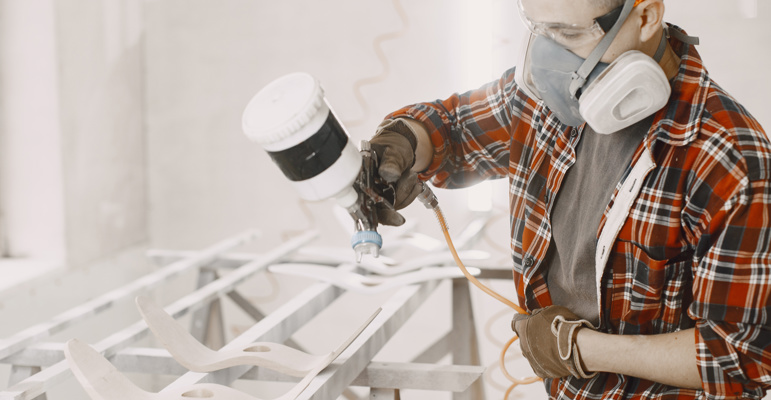 Efficient interior and exterior commercial painting services in Melbourne
Whether you need interior or exterior commercial painting services, we recognise the importance of efficiency and reliability. We consider various considerations, including working harmoniously with your staff, clients and the public, maintaining a peaceful work environment, adhering to OH&S standards for all parties involved and minimising workplace fumes.
From suburban shops to skyscrapers, Victoria Master Painting painters have the technical know-how and expertise to smoothly manage your interior and/or exterior commercial painting project. 
Trust us to handle the details while you focus on your business operations.
Transforming Melbourne's commercial spaces with personalised expert painting solutions
As Melbourne's trusted commercial painting experts, we're committed to providing all our clients with a smooth and professional experience. We thoroughly assess your property, determine the necessary scope of work and breathe new life into your space with minimal disruption. 
Our commercial painting services are flexible and designed to accommodate your schedule, allowing your business to continue operating while we enhance your property's appearance. 
We understand the impact of aesthetics on customer perception, and a fresh coat of paint can make all the difference. With a focus on your specific needs and effective project management, we've successfully completed numerous commercial painting projects across Melbourne and its suburbs, contributing to improved business growth through aesthetic excellence.
Retail spaces
Cafés
Offices
Restaurants
Salons
Schools
Aged care facilities
Childcare centres
Government and community premises
Heritage sites
Factories
And more!
Create desirable interior with quality commercial painting:
Our experienced commercial painters in Melbourne deliver the finest results with high-end detailing. We consider all the necessary details, use industry-compliant painting tools and supplies and provide you with flawless coats. Whether it's an office, cafe, or gym, you can count on our experts for comprehensive interior commercial painting services that add value to your property.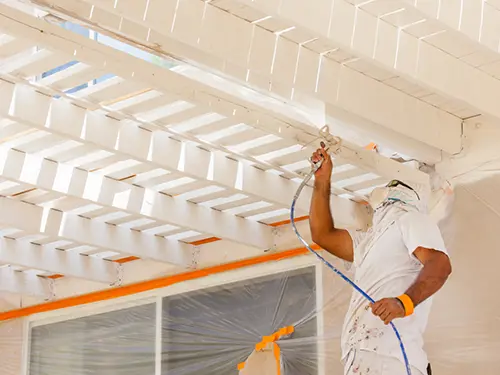 Commercial painting services for beautiful and durable exterior:
We use premium quality materials and incorporate the latest commercial painting techniques when it comes to creating beautiful and functional exteriors. We provide durable and eco-friendly painting services that add strength to the walls and minimise the effect of UV rays, moisture, heat, and rain. Investing in our commercial painting services allows you to enjoy years of elegant and stylish exterior walls for your commercial place. You get long-lasting paintwork at competitive prices.
Why are we the most reliable commercial painting contractors?
Over 25 years of painting experience has equipped us to work on a variety of commercial premises. Victorian Master Painting team members arrive on time, are efficient and skilled tradespeople and take pride in leaving your business premises tidy. All our painters come with background checks and are thoroughly screened. They have Working with Children and police checks and are OH&S compliant.
Over 25 years of experience
On time and efficient
Expert and knowledgeable
Clean up after we finish
What do you get by partnering with us?
As an expert carpentry service in Victoria, we proudly integrate carpentry expertise into our offerings.
With us, you can expect:
Profound expertise
Punctuality and efficiency
Decades of experience
Post-job cleanliness
Schedule an appointment with our experts today!
FAQs regarding commercial painting services in Melbourne:
We are highly experienced in working in small premises such as shops, boutiques and hairdressing salons and large areas such as schools, aged care facilities and offices. We adjust our timetable to fit in with your employees and the people you serve.
Can you help us choose the colours for our office?

Yes, we can help you select colours that will match your branding and give your premises a welcoming atmosphere.

Will your painting affect our staff, customers and visitors?

We can arrange to paint your premises after hours so that your business can continue to run smoothly.

Some of our staff have allergies. Will they need to take time off while you are painting?

If you let us know in advance, we can paint your home with environmentally friendly paint that is non-irritating to humans.
Customer satisfaction is one of our highest priorities. We aim to be the master painters for all commercial premises
We value your feedback. Two weeks after we finish your job, we will call you to get your feedback. We use this to improve and provide even better commercial painting services.