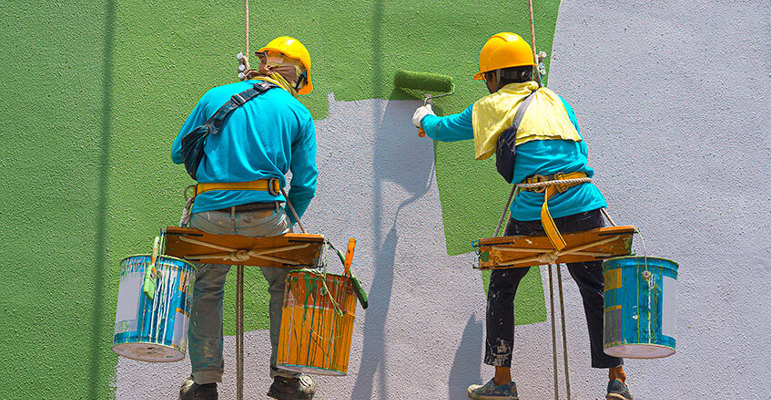 Affordable and high-quality residential painting services in Melbourne
Victoria Master Painting is your one-stop solution for giving your home a fresh new look. We provide residential painting in Melbourne that transforms your home into an aesthetically perfect place. We have years of combined experience in the painting industry, allowing us to offer comprehensive solutions to your interior and exterior house painting requirements.
From helping you select the right colour combinations to seamlessly finishing the project on time, our experts and experienced house painters give attention to all the required details. Whether you need to re-skinned the exterior walls or create an elegant interior subtly, we add value to your property with our residential painting in Melbourne.
We use superior-quality materials and advanced techniques to bring the perfect combination of warmth, comfort, and style to your home. Our house painters ensure to bring aesthetic delights to your senses with unbeatable craftsmanship. Our professionals are well-trained and work carefully on specific details, and we make your home look more desirable with our affordable, reliable, and safe house painting services across Melbourne and the surrounding suburbs.
Melbourne's trusted house painters creating desirable homes:
Whether you need flawless interior walls or beautiful texture for the exterior walls, our house painters in Melbourne offer tailored solutions to turn your dream home into a reality. With a combination of modern techniques and quality materials, we create aesthetically perfect and highly functional homes. Our paint job will protect your home from harsh Australian weather conditions for years. With our finest residential painting services, we create a living space that meets your style and comfort needs. From featured walls to outdoor decking, our experts help you select the right colours at every step to give your property a touch of perfection. Our home painting services include the following:
Bedrooms
Kitchens
Living rooms
Bathrooms
Dinning rooms
Featured walls
Outdoor decking 
Door and window frames
Premium exterior and interior house painting services in Melbourne:
Whether you need residential painting services in Melbourne for a new house or want to upgrade the looks of your old house, Victoria Master Painting offers complete solutions to all your exterior and interior home painting requirements.
House painting for sophisticated and soothing interior:
We have been beautifying Melbourne homes for over 25 years and can turn your dream home into a reality. Our top-quality interior house painting services make your home look desirable. We follow safety procedures that meet industry standards. From clearing the entire room before painting to applying cupboards to protect the floor, we finish the job perfectly. We use advanced tools and safe, non-toxic materials to create stunning interiors. From bathroom to kitchen, we work on all the details and leave no stone unturned to deliver flawless results.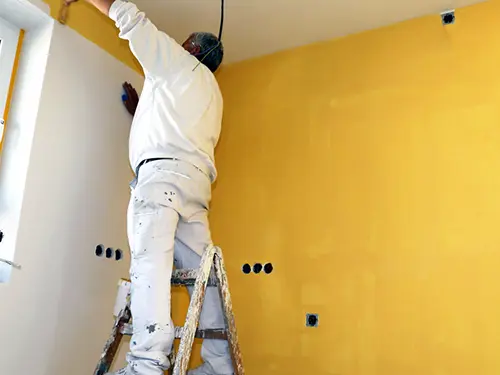 Exterior house painting for timeless appeal:
We have worked on hundreds of exterior house painting projects and provide comprehensive solutions to your exterior house painting needs. Our professionals use the latest techniques and quality materials to give your home exterior a timeless appeal. Investing in our exterior house painting services provides you with the best value for your money. The exterior paint won't fade for years and will withstand harsh Australian sun, heat, rain, humidity, and cold. You can trust our professionals for timely, safe, affordable exterior wall painting services.
Why are we the best residential painting contractor in Melbourne?
We have over 25 years of industry experience and have worked on an extensive range of houses. You can count on our punctual, efficient, and skilled team of professionals for superior-quality house painting services. Victorian Master Painting team members are thoroughly screened with background checks, OH&S compliant, and come with police and Working with Children checks. Our residential painters are licensed and insured to provide house painting services across Melbourne. Here are a few more reasons to choose Victoria Master Painting:
Expert and knowledgeable
Over 25 years of experience
On time and efficient
Clean up after we finish
We can paint every room in the house, from the attic to the basement. We are experts in working with different surfaces such as plaster, timber, brick and concrete. We pay great attention to little details such as skirting boards, architraves, dados and picture rails.
Outdoors, we paint walls, door and window frames, balconies, patios and decking, to name a few.

We enjoy introducing our customers to the latest colour trends and can help them select colours that mix and match well to create their atmosphere of choice.
Common burning questions regarding residential painting in Melbourne:
Need a touch-up or a full home renovation? We can provide a full-home indoor and outdoor package, or work on small but delicate jobs such as skirting board trims and intricately carved furniture legs. Whether you have a small one-bedroom apartment or a mansion, we are the master painters for all residential premises.
Can you help us choose our colour scheme?

Yes, we can help you select from a vast range of classic shades and the latest in trending tones.

Our family have had reactions to paints in the past. Do you use non-allergenic paints?

If you let us know in advance, we can paint your home using paints that are friendly to the environment and humans.

What happens if we've decided to get the whole house painted after you've given us a quote for just one room?

Let us know as soon as possible and we can do another quote for you and arrange our schedule to fit you in as soon as possible.
We love what we do, but even more we love to see the smiles on your faces as we leave. That's what we always aim for.
Two weeks after each job, we call each of our customers to get their feedback which we use to implement improvements to our work standards and practice.